It's ten days into the new year, so it's officially about the time where the resolutions I made for myself start falling through the cracks, but so far I am proud to report that I'm mostly going strong. I posted on my Facebook page my 2021 goals. 
I'll list them here as well:  
Jewelry related goals: 
-I'd love to come up with at least one new listing per month (ideally per week) 
-Social Media Posts to keep customers updated, 5-7 days a week 
-Blog once per week
 Life related goals: 
-Be more patient with my family (kids are still virtually schooling 😬) 
-Drink more water 
-Write every day (hence all the writing related rings/jewelry) 
-Intermittent Fasting more regularly (makes me feel AMAZING...read the book Fast, Feast, Repeat if you're curious to learn more) 
-Journal more often 
-Read for fun more often
Truly, the new 2021 Planner I bought at Barnes n' Noble on New Year's Eve only has my annual goals listed like general guidelines rather than quantitative resolutions. Other than a few of them, at least. For instance, when it comes to writing, I want to write at least 100 words every single day of the year. Hopefully many days will have more words, but as long as I get 100 words, I'll know I made a concerted effort to open whatever project I have that I'm working on and work towards getting it finished. I didn't stop to think if I should change that goal when I start editing a project, maybe at least 1 page of editing? 
I LOVE books, and one of my life goals is to publish a book at some point. I've written several, but I've never really gone through and polished any of them to the point where I feel comfortable trying to get them into bookstores. I always look at each new year with the mindset of "maybe this is the year it happens". So maybe 2021 will be it? I really hope so.
My other goal that's one I do plan on tracking daily is intermittent fasting. I've been "IFing" for a couple of years now, but I took it much more seriously in 2019 than I did in 2020. 2020 was full of self pity, struggling to get a foothold on the "new normal" and it felt impossible to focus on my health, so on the days that I did manage to fast past breakfast, most days were only between 14 and 17 hour fasts. 
I feel so much better now fasting over 18 hours a day. I eat A LOT (for real, too much) during my "window", but I plan on tackling that issue over time. My one and only goal at the start of the year is to fast past 3 PM every day. If you've never heard of intermittent fasting and your jaw is dropping at the thought of someone not eating a bite of food until late afternoon, read this book and get back to me.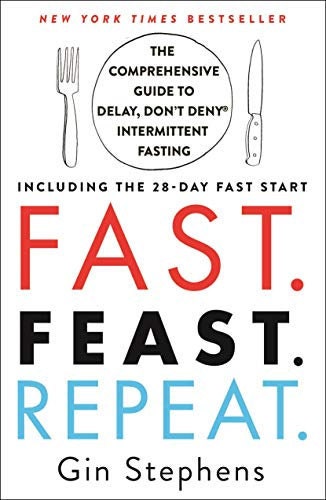 I am telling you, I have never felt more energized, healthy, full of life than when I'm at 19+ hours fasted. Most of those days, I also do an intense workout at somewhere around the 12 hour mark and continue fasting through until 7 hours later. Only water and my own fat (gross) to fuel me. I truly love this way of eating.
  I've been journaling more, reading more, and drinking more water, but none of those have a set "8 cups a day/1 book a week" type goal. They're just general guidelines because I know they make me feel better when I do them. 
2021 has already brought the same crazy US news in the theme of 2020, but I'm still determined to make this year a good one. I hope all of you are still motivated to make 2021 a little brighter than 2020. Hopefully I'll have the same kind of positivity to report next week! ❤️