Carmella's Jewelry
Regular price
Sale price
$70.00 USD
Unit price
per
Sale
Sold out
Simply drag and drop the fingerprint and/or handwriting file where it says "Drag & Drop Your Files or Browse" Or if you prefer to email the images, the email address is shop@carmellasjewelry.com and I will create this one of a kind item featuring the fingerprint and/or handwriting you provide. If you don't already have the fingerprint image, follow the below instructions.
♥ ♥ ♥ ♥ ♥ ♥ ♥ ♥ ♥ ♥ ♥ ♥ ♥ ♥ ♥ ♥ ♥ ♥ ♥ ♥ ♥ ♥
TO CREATE THE PRINTS->
Step 1: Use a pencil to color a smudge on a white piece of paper (a smudge about the size of the finger...this smudge will act as the "ink pad").
Step 2: press the finger onto the smudge of pencil (don't worry if you don't see any of the pencil on the finger, it'll still show up on the tape)
Step 3: take the piece of tape and press it onto the finger (you can press it onto the finger and really make sure the sticky part is covering the whole area that was pressed onto the pencil)
Step 4: peel the tape off the finger and then lay it sticky side down on a blank area of the white paper
Step 5: take a clear image of the fingerprint with a smartphone (using the flash or taking the photo in bright natural light works best)
Step 6: attach the image to a message to me or email them to: shop@carmellasjewelry.com

Video tutorial:

https://www.youtube.com/watch?v=yECoWfjQykE&t=55s
♥ ♥ ♥ ♥ ♥ ♥ ♥ ♥ ♥ ♥ ♥ ♥ ♥ ♥ ♥ ♥ ♥ ♥ ♥ ♥ ♥ ♥
SHIPPING INFORMATION-> Please see shop information for processing speeds. I create each piece by hand upon order, and processing speeds include the time it takes me to create each item depending on the volume of orders at any given time. Shipping speeds begin after processing speeds.
♥ ♥ ♥ ♥ ♥ ♥ ♥ ♥ ♥ ♥ ♥ ♥ ♥ ♥ ♥ ♥ ♥ ♥ ♥ ♥ ♥ ♥
Because my designs are very minimalistic, I don't add the .925 mark to my sterling silver pieces, but I do guarantee the quality and silver content.
Share
View full details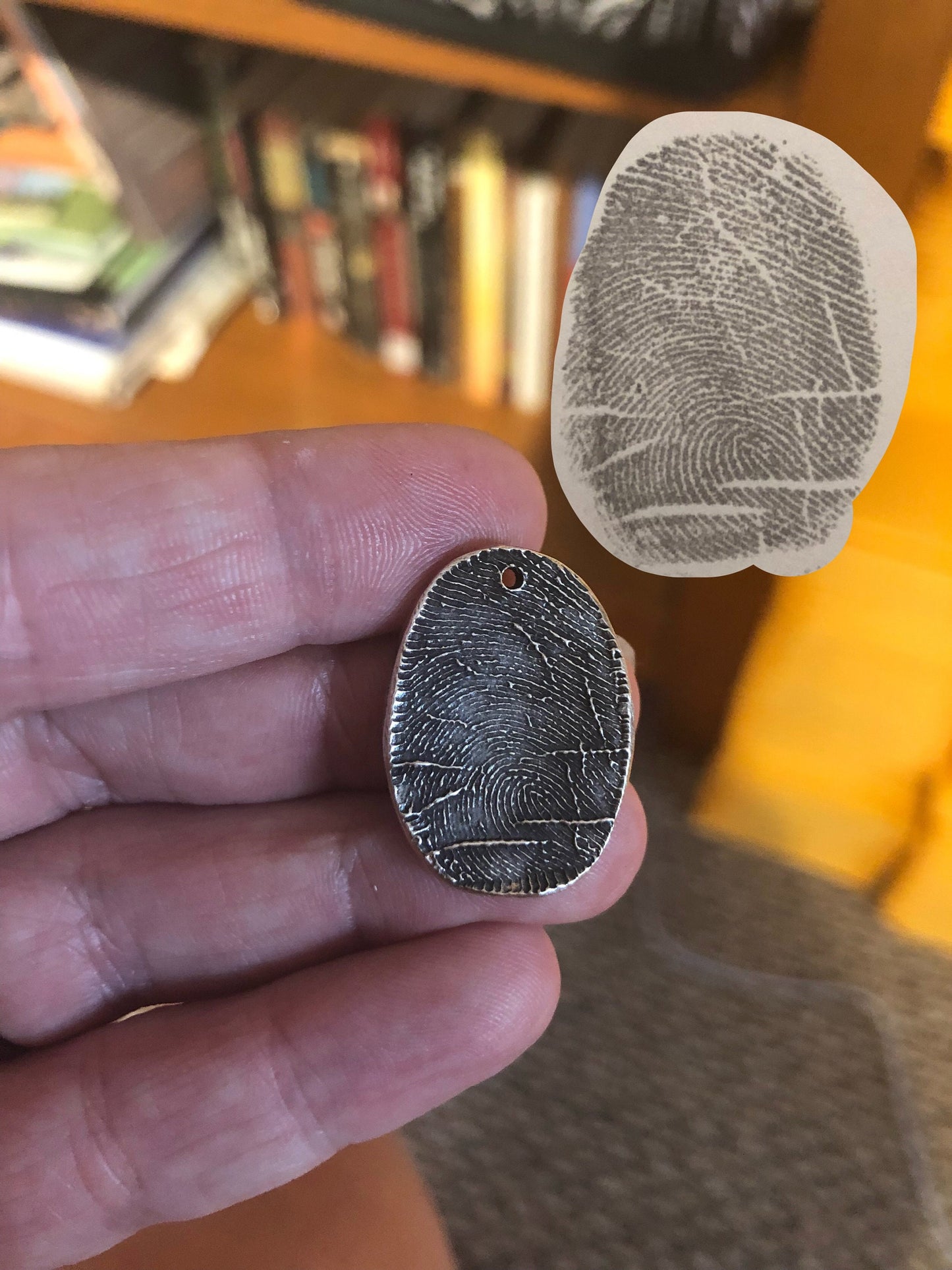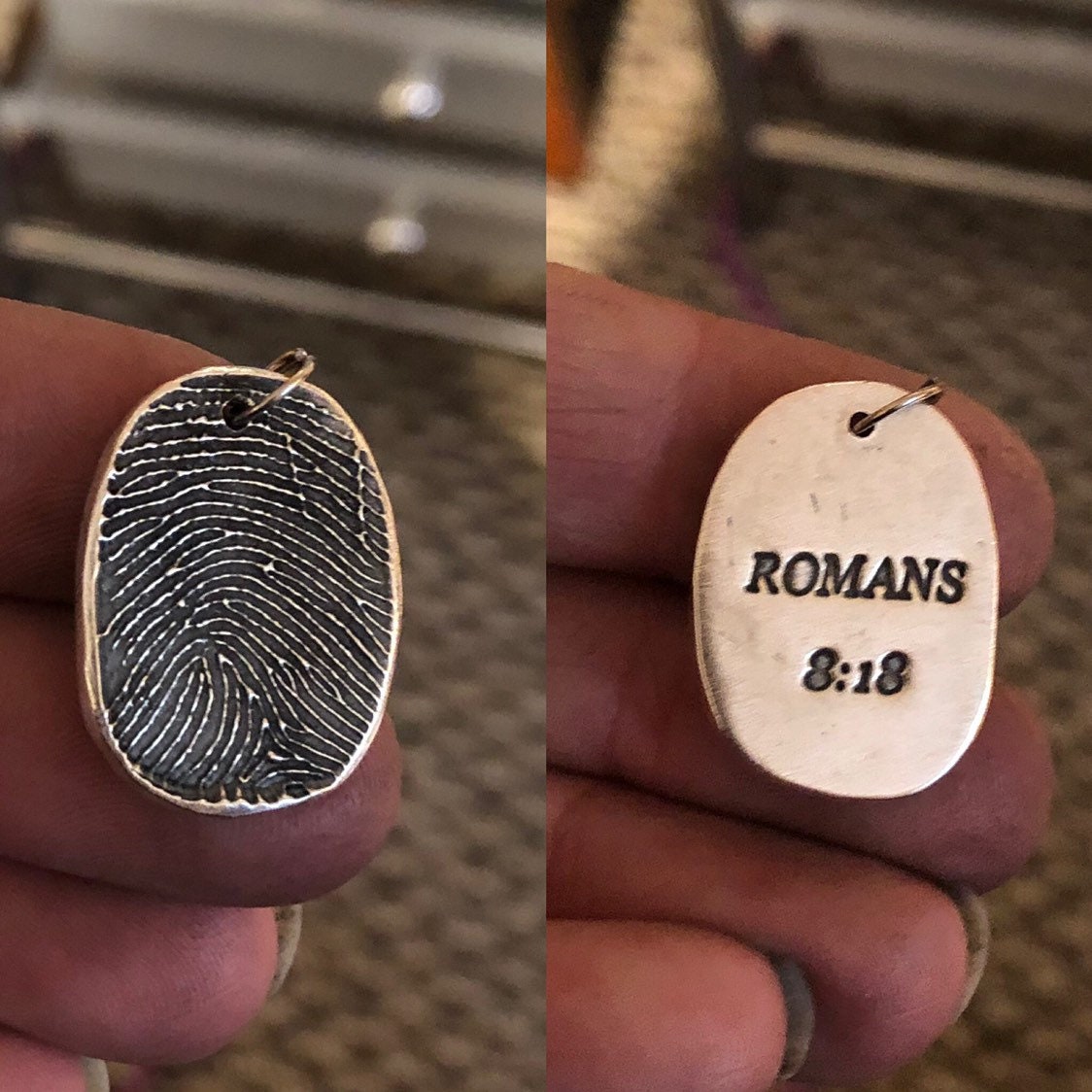 Absolutely beautiful
I purchased a necklace for myself and my mother in law containing my husband's thumbprint and inscription in his handwriting. We both love our pieces. They are beautiful, sturdy and just what we wanted. Carmella was great with communication and provided status updates as she worked on them.
So lovely! Carmella was very helpful in an...
So lovely! Carmella was very helpful in answering all my questions about customizing a pendant with two very different animal print styles on either side. The necklace shipped safely, and is bound to bring joy to the friend it's being gifted to. Thank you, Carmella!
Thank you this is beautiful
Thank you this is beautiful
This review has no content.
This review has no content.